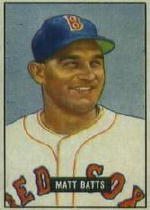 Matt's Favorite Year. Why?
Catcher Matt Batts threw me a curve!
I sent him three questions, along with a sheet to reply. All he signed was…
Matt Batts
1951
The records aren't helping. The Red Sox shipped him to the St. Louis Browns in 1951.
Batts led the American League in errors AND passed balls in 1951.
Offensively, he had more homers and RBI in other seasons. Batts debuted in 1947. Detroit used him as a starter in 1953.
Why 1951? I'd welcome any suggestions, please. To quote my baseball-wise wife:
Think outside the box SCORE!
Batts was a World War II vet. What was going on in his off-the-field life in 1951?