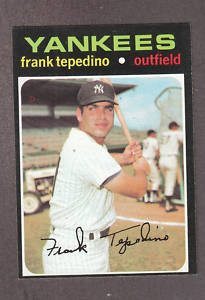 Frank Tepedino is a classic. The former Yankee has maintained his calligraphy-quality penmanship. His signature is even more elegant than that captured on his 1971 and 1975 Topps cards. I was dazzled by the content and presentation of his thoughts on the page.
Not known for his power, Tepedino tallied six dingers in his career. Most memorable?
"First homer off Catfish. Always your first stands out."
Huzzah for the http://www.retrosheet.org/ team, finders of Tepedino's blast off Hunter, June 18, 1971.
He played his first game in 1967 at the age of 19 for the Yankees. How did he cope with the New York media circus?
"In the 1960s, coverage was nowhere like it is now. We were part of history, so we all enjoyed it."
Tepedino joined another fabled New York team after his major league career ended. He's worked as an NYC firefighter. The Brooklyn-born Tepedino was the ideal choice to throw out the first pitch before a playoff game. What memory lingers from that game?
"To see New York and the country stand up as one because of 9/11. I hope we still will do it as a nation."
Tepedino has worked as a motivational speaker, serving with the group Winning Beyond Winning. He's found new meaning in his career in later years.
"My life in baseball was great, but like life, we don't let it sink in till later in life."
Two worthwhile books detailing Tepedino's service to baseball and his city would be
Before the Glory: 20 Baseball Heroes Talk About Growing Up and Turning Hard Times into Home Runs

and
Yankees: Where Have You Gone?