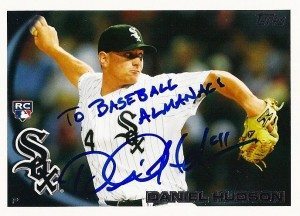 I confess. I'm a fan of Sean Holtz.
What team does he play for? OUR team?
Sean is the mastermind behind Baseball Almanac. I link to Baseball Almanac player pages whenever possible. He collects more than stats. Sean includes college attended, uniform numbers, salaries and other tidbits that connect the dots in a player's career. I use his pages to research a former player before I send a fan letter of questions.
Most often, as noted in "Online Baseball Autograph Museum!", my March 20 post about his extensive autograph collection, Sean includes a signed card to illustrate every possible player page.
Forget the stuff all players spout about never reading their own press. There are guys checking themselves out on the Baseball Almanac website. Imagine getting an autographed card or note out of the blue, without sending a letter or SASE, from a baseball name who knows YOU. Sean has countless fans from Major League Baseball's past and present.
Sean wrote me:
"As for players themselves helping, it isn't as uncommon as you would think. Last week I received a card from Daniel Hudson signed and inscribed to Baseball Almanac for his page. It's probably the 10th or so I've received, unsolicited, from players just adding cards. Others update their college data, uniform numbers, salaries, and a TON more are families (wives and children) doing the same thing for the player."
It's small wonder Hudson sent a personalized autograph. Check out the page Sean has made for him.
Give Sean an e-mail cheer. Let him know he has other fans. Help him fill in the blanks on your favorite player pages. Baseball Almanac is a website worth bookmarking. You'll become a wiser fan. Your collection will thank you, too.