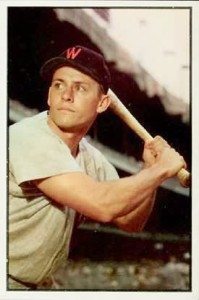 Gil Coan played 10 major league seasons. With today's offenses, a speedster like Coan would be an annual resident in the stolen base leaders category.
Even at age 88, he's still fast with his wits. He shared some great memories that I'll be posting this week. Using his own postage and envelope, Coan gave me a beautifully autographed 8-by-10, circa 1950, of him catching a first pitch in Washington from President Harry Truman. On the back, Coan hand-lettered a description of the event.
Most importantly, Coan ended his note with a plea:
"I ask that you do not sell these items enclosed, because too often I see items I give away on Ebay and do not appreciate that."

During the height of Coan's career, according to Baseball Almanac, he was pulling in a modest $14,000. The expense, and time, of reproducing your own photos is significant for an 80-something. Feeling that a gift you gave is unappreciated? I can understand how he feels. Thankfully, I didn't see any of his gifted photos being auctioned this week.
Even if you don't agree with me or Gil Coan, know one thing:
They are watching.
Former and current players will slam the door on the hobby. Every month, champion baseball address finder Harvey Meiselman shares word of another former player wanting a fee. Not for charity, but for the player himself. I'd guess a majority of them have seen their autographs sell online.
When an autograph signer lavishes you with bonuses, send them a thank-you note. Then, proceed with caution as you decide what to do with the signatures. Your decision could change the hobby forever.