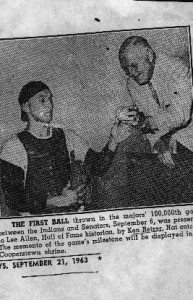 One of the best replies I've received this year came from Ken Retzer, the Washington Senators catcher. He looked me up and called later to thank me for my letter. Even though he didn't get lots of chances in the majors, he has remained a fan. I wrote about his fine letter in my March 25 post.
Retzer photocopied photos and clippings from his personal scrapbook. He added notations and autographed each one.
One frequent question from newer collectors and some blog readers is:
What do I ask them about? I never saw them play!
Remember the old saying, "A picture is worth a thousand words." Go to Google IMAGES. Search for newspaper clippings. Print out an obscure photo. Or, if you have an old yearbook, find an image there. Even a baseball card could work. Where was the photo taken? Who else is in the shot? Which card is their favorite?
Seeing is believing. Let a retiree see what you're talking about. You may get a story that's been untold for years.
Be sure to check out this account of corresponding with Mr. Retzer from one of Washington's greatest fans! Here's a can't-miss Senators history website.