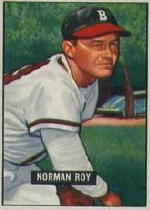 Pitcher Norm Roy is an eyewitness to the waning days of the Boston Braves.
Although he worked 19 games for the 1950 club, Roy didn't seem shocked when the Braves migrated to Milwaukee in 1953.I hoped that he could have had friends and family see him perform, being one of the closest things to a hometown hero that year's Braves might have. He wrote:
"I was born in Newton, but lived in Waltham, Mass. In those days, the stands were never filled. Because of attendance, the Braves moved to Milwaukee in 1953."

Try to look up Roy, and you'll see the names "Jumbo" or "Normie" attached to his career credentials.
"The manager of the Milwaukee Brewers (then AAA) Nick Cullop gave me the nickname because my feet were size 12-1/3 EEE. My mother called me 'Normie' when I was a child."

(Only after Roy's reply did I learn that manager Cullop was known as 'Tomato Face' when he was a player. Obviously, he believed in physical nicknames!)
Lastly, I had to know about appearing in the 1951 Bowman set. He replied:
"The picture for the card was taken at spring training in Bradenton, Florida. You were offered $100 or a ladies watch.


Being a 20 year old kid, I really didn't grasp the situation.


Sincerely,
Norm Roy"