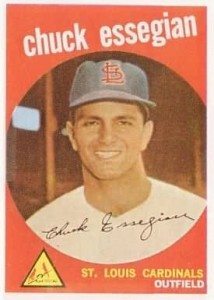 I may call former Dodger Chuck Essegian my hobby "professor."
Months ago, I wrote to him with my three questions relating specifically to HIS career. Each question was answered in "Password" fashion (remember that cool TV game show?), done in less than one sentence.
However, he sent me a passing grade! Yes, Prof. Essegian proved I'm on the right track:
"Tom —

May you stay warm and young.

Chuck Essegian"

I had concluded my letter with:
"Thank you for your time. My 'career' ended in Little League, but those baseball memories keep me warm in the winter and young year-round."

I DO NOT write to former players saying, "I'm a blogger who'll publish your words. Want to be famous again? Send me your best quote!" I am sharing what one ordinary fan and collector can do with a heart-felt letter. No, you won't connect every time. However, a batting average counts only successes. Focus on your hits, not your misses, for a great hobby career.
Readers: do you have examples of inscriptions or personalizations proving the autograph signer connected with your letter? Please, share!