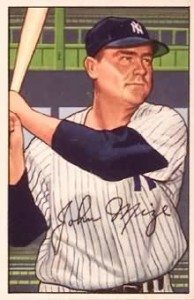 Two nicknames honored Johnny Mize during his too-brief career. Many called him "Big Cat" for his fielding prowess, or "Big Jawn" for his size and Georgia accent.
I'd add "Southern Gentleman" to the list of monikers.
I spent two hours with the World War II veteran at an Iowa card show when I wrote for a collectibles magazine.
Mize felt he owed a debt of gratitude to the public for his Hall of Fame membership. He appeared everywhere in a sport coat and necktie.
"You know anything about that Lenny Dykstra?" he asked. "We just did a card show together."
I thought we'd be talking about "Nails," the aggressive old-school player.
"He showed up wearing a jogging suit," Mize fumed. "With all he makes, he could have afforded a sport coat. He wanted to wear his stereo headphones as he signed. He wasn't even going to shake hands with fans!" Mize added that he had to stop wearing his Hall of Fame ring, because frequent hand-shaking meant the jewelry kept cutting his finger.
Mize's eyes narrowed. His glare grew.
"In my day, someone like that couldn't even carry my jockey strap!"
At the autograph table, a parent approached with a child in a wheelchair. Although Mize had been through recent knee replacement surgeries, he rose from the table to come nearer the chair. He still moved like a cat, but looked like a bear's grandfather.
The old Yankee's smile blossomed. The parent took a picture. Mize looked for a cue, making sure he was done posing.
"This is for you."
From his inner sport coat pocket, he produced a 1953 Topps card.
"May I autograph it for you?"
Others in the line didn't complain. They were overwhelmed at the all-star effort.
I saw Mize had a stack of collectibles in his pocket. I spotted a Perez-Steele card and his vintage 1950s issues.
"Fans send me an extra sometimes. I save them. If I meet a special child, I like to have something to give them. I do the same when I see someone in uniform. You meet lots of military people in airports. I thank them for their service."
Remember Johnny Mize. If you're sending a card for an autograph, include a second. State in the letter, "There is a second card for you to keep. Please, share it with another baseball fan if you can."
Then, put a post-it note atop the extra card – "YOURS TO KEEP."
I disagree with collectors who'll send 6-8 cards with a vague "keep some for yourself if you want." I can't help but worry this might be a veiled ploy to get a pile of autographed trading stock from someone who didn't read a letter carefully. That's not true generosity. Mark each card, so the player isn't confused.
That child or soldier will never know you made the gift possible. Please, try. You'd make a Hall of Famer smile.