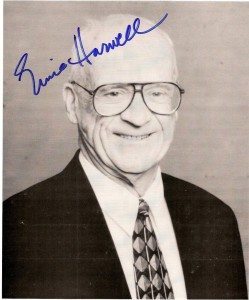 For, lo, the winter is past,
The rain is over and gone;
The flowers appear on the earth;
The time of the singing of birds is come,
And the voice of the turtle is heard in our land.
Ernie Harwell is a man of Biblical proportions. He didn't write such a verse. It's from the Song of Solomon (2:11-12). But his annual welcoming of baseball's return rang in my mind today, a perfect morning pre-game welcome for this gorgeous May day.
The 92-year-old Tigers broadcasting legend told the baseball world more than eight months ago that he's facing inoperable cancer. The state of Michigan celebrated Ernie Harwell Day in April. I want to celebrate Ernie Harwell's spirit every day.
I still treasure my copy of the book Ernie Harwell: My 60 Years In Baseball (Honoring a Detroit Legend)

Likewise, I've been delighted with Harwell's own Breaking 90: Nine Decades Young and Still Loving Baseball
As we face the loss of the game's grateful inspiration, I wanted to share a copy of a letter I sent upon Harwell's 2002 retirement — to Mrs. Lulu Harwell.
Dear Mrs. Harwell,

It's time you get a "fan letter," too. Instead, I'd call this a thank-you note.
When I learned that you have listened to ALL of Mr. Harwell's broadcasts through the years, I swooned. Baseball history is full of amazing behind-the-scenes leaders like managers and general managers. They allow the players to take all the bows. Well, Tigers fans should offer you yearly standing ovations, too. You've kept the voice we love on the air.

Tiger fans have spent seasons enchanted by Ernie Harwell broadcasts. Each fan has thought he's talking directly to HIM. That's the magic. He's always made that personal on-air connection knowing that he'll be appreciated by one special Ernie Harwell fan. You! Fans like me overhear. We are the blessed eavesdroppers.
I'm grateful for the many summers you've shared your husband with the baseball world. I hope you and Mr. Harwell have a lovely retirement together.
Thank you, Ernie. Thank you, Lulu. I wish you many more innings together.