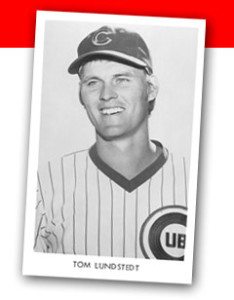 Catcher Tom Lundstedt shared a glimpse of what 1970s felt like with a small-market team when replying to my 2000 letter.
He started with the Cubs and ended with the Twins in a too-brief career that dates from 1973 to 1975. Cub fans might remember that Lundstedt was a FIRST-ROUND draft pick in 1970.
In both places, Lundstedt wasn't overwhelmed with free-spending owners. I asked him if he ever dealt with Chicago's P.K. Wrigley or Minnesota's Calvin Griffith. Lundstedt replied:
"I never had any direct contact with P.K. Wrigley but Calvin Griffith's another story. He ran the whole show – negotiated contracts, made trades, etc. I was traded to the Twins in the winter of 1974 because I had refused the Cubs contract offer.

"When I met with Calvin to negotiate, he offered less than the amount I had turned down from the Cubs. When I asked why, he said, "Because you're catching is no damn good!" I wonder if that's what the arbitration hearings of this era are like?

"I have come to admire Calvin as the years go by. He was a true character who really cared about the good of baseball."
Tom Lundstedt became an all-star, even if it wasn't in baseball. Such a victory is small wonder, considering his winning attitude. He's a nationally-known expert on investment real estate and taxation. Check out his impressive business stats at www.tomlundstedt.com.
Imagine the outcome today if this first-round draft pick got to renegotiate that 1970 contract in Chicago!