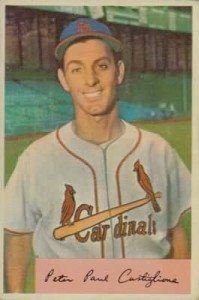 Infielder Pete Castiglione left us April 22. His obituary stated he was 89.
According to the always-helpful www.sportscollectors.net, Pete had signed 48 requests, but sent back blank cards for the first time in October, 2009. That's a likely sign that a former player's health is declining.
Pete put his baseball career on hold for four seasons to serve in the Navy during World War II. More about his boyhood days can be found from this fine Connecticut newspaper article.
For my book Collecting Baseball Cards, I looked to Pete for a memory about his four Bowman and one (1952) Topps card appearances. He wrote:
"Players were contacted by an agent representing the baseball cad companies. The fee in those days was either gifts or money. The companies usually gave you a few boxes of the cards. Very few players saved the cards in the late 1940s and 50s. My children played with the cards."
I can't say often enough to remember all of baseball's over-80 retirees NOW. Their numbers are shrinking. They feel a sacred obligation to fans and the sport. Impressive penmanship, attention to detail and appreciation for baseball history are typical of the responses they send. Please, thank them today.