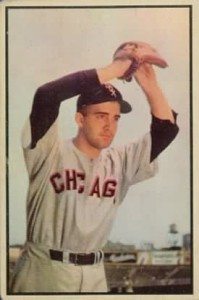 Pitcher Billy Pierce did his job, on the mound and at the plate.
The seven-time All-Star lefty registered 211 career victories from 1945-64. He raised a few eyebrows at bat, too. In 1959, Pierce ended just one homer short of hitting for the cycle!
"About the game in Cleveland, the guys couldn't believe it," Pierce wrote.
For a pitcher with 24 two-hit games and four three-hit performances as a HITTER, Pierce didn't gush about the idea of a designated hitter taking his turn.
"To me, the D.H. would have taken a lot of fun out of the game; also a lot of strategy."
Pierce has an array of amazing statistics to ogle. I checked out his league leads in wins, strikeouts and complete games, but chose to ask about a 1955 ERA crown, an A.L.-best 1.97.
"Back in the 1950s, when pitching nine innings was the norm, an ERA (in my opinion) was the best way of judging a pitcher. As you might guess, my ERA in 1955 was one of my proudest accomplishments."
Before writing Mr. Pierce, I found a stellar profile of the White Sox workhorse on Baseball Almanac.
Pierce roomed with Nelson Fox for 11 seasons. When Pierce's friend died of cancer in 1975, Pierce dedicated himself to Chicago Baseball Cancer Charities.
"Nellie Fox gave 100 percent at bat and on the field at all times. Also, he was a great team player on and off the field."
Statues of Fox and Pierce live at U.S. Cellular Field, awaiting fans attending Chicago White Sox games. Pierce's statue may be bronze, but his heart is gold.