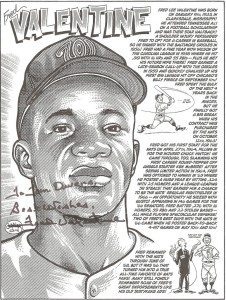 Baseball artist Ronnie Joyner must be a time traveler.
Today's baseball fans don't have a Willard Mullin or Bill Gallo to capture their favorite diamond heroes in newspaper art. Photos are everywhere. The pen-and-ink artists disappeared as photographers multiplied.
Don't tell Ronnie Joyner. Thanks to him, the medium is roaring back in places like Sports Collectors Digest. You might catch him depicting a current player in a rare diversion. Usually, he's honoring the men of baseball's yesteryear, adding an insightful biography to every artistic tribute.
His 2010 illustration of a retiree could have graced a sports section 50 years ago. (Why couldn't Topps ever fit this much handsome info on the back of a card?!?) Best of all, Joyner is rewarding faithful fans of overlooked organizations like the Philadelphia Athletics or the Washington Senators.
Joyner's arrival in baseball retro art started by collecting autographs through the mail! Here's how he tells it:
"My whole foray into baseball-related art/writing projects came about as a by-product of writing to players for their autographs. I became good friends with a guy (Bill Bozman) around 1985. We worked together at an ad agency, and we soon found that we were both fanatics for baseball. He played ball for Maryland's Northwestern High School (alma mater of the great Len Bias), while I had played at Oxon Hill High (alma mater of no one really great!).

He was three years older than me, so we'd never played against each other, but we still had a lot of stories we could share. One day my girlfriend (now wife) and I went over to Bill and his wife's house for dinner, and I decided to take my old shoebox full of baseball cards for him to look at. I was proud of my old collection of cards, but my eyes were soon popping when Bill showed me HIS collection. Nothing but SIGNED cards, photos, postcards, etc.

It turned out that Bill and his brother has spent a great deal of their free time as kids writing to ballplayers and requesting their autographs. The bulk of what they collected were contemporary players of the day (late-60s/early-70s), but Bill said he once saw an ad somewhere that offered a list of baseball addresses for a dollar. He bought it and was able to acquire a lot of nice signatures of old players who would be gone from this Earth by the time 1980 rolled around.

Well, seeing Bill's signed items made me feel mighty silly for not having thought of writing in my younger days, but I figured better late than never.

We found a copy of Smalling's address list [of home addresses for current and former players](I think it was #3 or #4), and we were off and running, writing with a fury. I concentrated on the old-timers first, sending them reprints of their old Goudey cards. Eventually, I expanded my writing to guys through the 1960s, but I wasn't really interested in writing contemporary players of the time. I always took great pains to hand-write a full-page letter, chock full of info specific to the player — and I was always ultra-polite. While I was into the aspect of quantity, which you discuss, I also found myself enjoying the "extras" that came back in many of my envelopes — a photo, a postcard, a business card, a clipping, or, best of all, a note.

Around 1993 I sent a "reprint" Play Ball card to a little-known Browns catcher named Frank Mancuso. In his return letter he asked me if I knew where he could get a bulk-lot of copies of the card I'd sent him so he could send them to his fans who wrote him requesting a card. I told him I didn't think it was possible, but I told him I was an artist and I'd be glad to make him a card — even better than the Play Ball card. Youthful cockiness.

Anyway, I did it and Frank and I became good friends. He hooked me up with the St. Louis Browns Historical Society for whom I began to produce their quarterly magazine and reunion programs. I also created a fully illustrated card set commemorating the 1944 AL Champion Brownies, a club Frank was on. I also eventually did another card set of the 1953 Browns. Both sets are still sold by Larry Fritch up in Wisconsin.

Other baseball opportunities shot off from my relationship with Frank and the Browns — work with the Boston Braves Historical Society, the Philadelphia Athletics Historical Society, the Washington Senators Historical Society, and book projects with players like Don Gutteridge, Virgil Trucks, Ned Garver, Frank Thomas (Pirates), Bob Dillinger, and Gus Zernial. All this from simply writing players. It's been great."
Tomorrow, discover more about Joyner's baseball art techniques, along with news of the players that have embraced his creations.