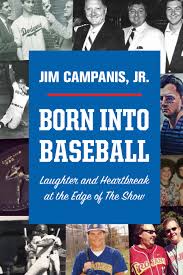 I enjoyed reporting on the all-star accomplishment of player-turned author Jim Campanis Jr., sharing all the reasons his Born into Baseball (Summer Game Books) memoir is a winner. 
Seeing how he's hit the road with dad Jim Campanis Sr. (whose major league career stretched from 1966-74), I wanted to ask Jim the game plan for his book tour. Following his appearances at minor league games in Walla Walla, Everett and Bellingham, here's his reply:
Q: What's your schedule on the road?
A:" I'm having fun and selling books. The schedule is locked through mid-July. Jakes Pizza in Saratoga CA @5p on 7/8 and the San Jose Elks Lodge @10a on 7/9. More tentative dates are ready to confirm but I need to be sure I have enough books!!!"
Q: Snooty bookstores sometimes add to their author signing ads with "the celeb author will only be signing copies of his latest book (so don't you dare bring anything else to get autographed)." That's the intent, at least.
If someone comes to buy a book, are you willing to sign cards, photos and etc. for them, too?
A: "Of course!  My dad and I enjoy interacting with the people we meet and sharing our story. It's been a blast and we've signed many items besides books."
Q: No cost to talk baseball with you and your dad?
A: "As I mentioned–my dad and I enjoy interacting with people and many decide to buy the book after hearing a story or two. To our surprise, many moms and grandmas are buying the book due to some of the inspirational stories. That's been quite a cool thing knowing I can help inspire young people to love baseball a little bit more." 
To learn more about the Campanis and Campanis 2016 Book Tour, find Jim on Facebook or visit the official book page.