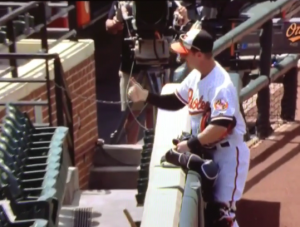 Applause to the Facebook site "Baseball TTM Autographs" and collector Ryan Hilliard. They reminded us of one shocking but needed fact. Current and former major leaguers are human, too.

Caleb Joseph has been a part of baseball autograph lore since 2015. The Orioles and the White Sox played a makeup game in Baltimore, due to civil rights protests cancelling the original contest. Only the media attended the makeup, due to safety concerns from the local police.

Caleb got into the spirit of a "ghost game." Before play started, Caleb approached the box seats and started his pantomime impression of signing a real autograph for a real fan. Photographers loved his antics.

Well, Caleb still understands what fans and collectors mean to baseball. When his basement flooded, he sent Ryan and other collectors a photocopied note of apology. He was sorry many TTM cards got ruined by the flood, but he tried to sign even the most-damaged ones. Caleb closed with the offer to collectors that he'd welcome fan mail at home after the 2021 season.

What does the Caleb Joseph story confirm? It points out that major leaguers are people, largely without secretarial staffs to sort and send signed replies. They are busy trying to keep their baseball jobs, all the while maintaining a personal life.

Therefore, I'd urge readers to make their letters and requests as easy as possible to reply to. Especially during the season, it's unlikely you may land the undivided attention of a current player. When you do, appreciate the backstory that each reply must have. And, consider those damaged cards one-of-a-kind collectibles.