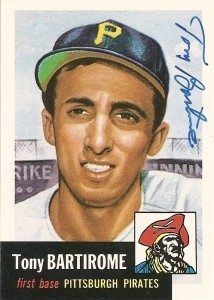 Tony Bartirome isn't the Pirate you might think he is.
I wanted to know about all he experienced as a player and trainer. His short reply contained three surprises.
I wrote to Tony to see beyond the brief bio. Bartirome's signing by Pittsburgh's legendary Hall of Famer Pie Traynor and hopeful debut on the opening-day Pittsburgh roster at age 19 for the 1952 Bucs faded fast in a nightmarish year of 112 losses.
The first baseman's career wasn't short-circuited by the poor season. Drafted into the Army, his career faced a two-year derailment. After hanging up his glove, Bartirome returned to Pittsburgh again in 1967, beginning a career as head trainer that concluded in 1985. Keeping the ailing Roberto Clemente in the lineup must be one of Bartirome's enduring accomplishments.
After reading Forbes Field: Essays and Memories of the Pirates' Historic Ballpark, 1909-1971

I wanted the Bartirome take on the place he played and worked.
Tony's answers on Forbes Field and more?
"1. I remember the people that worked there. The ushers, ticket takers. They were like our family.

2. Roberto was one of the funniest men and most generous man I ever knew.

3. Two years in the service, never picked up a ball. Got hurt in spring training. Set me back.

– Proud to have served -"
Beyond statistics, Tony Bartirome remembers the people. I hope Pirates fans remember him.