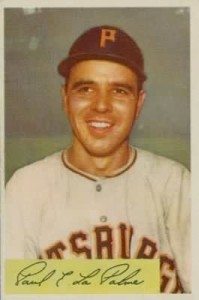 Pitcher Paul LaPalme's major league career spanned 1951-57, ending
with the Chicago White Sox. When buzz grew for the possible (and
overdue)Hall of Fame induction for Al Lopez, I wrote LaPalme about his
former manager.
His reply, squeezed onto a 3-by-5, was dated 3-15-76.
"Hi, Tom — Al Lopez was a great manager. He was great to play for.
I don't follow baseball very close now as I am very busy
with my family, golfing in summer and cycling in winter.
Michael, Terry (his children) and myself we cross-country ski and we love it.
We were skiing yesterday in Waterville, N.Y. Best to you, Tom."
"Lefty" LaPalme passed away on Feb. 7. The former World War II veteran
was 86.
Why did I keep such a chatty family update from a person I'd never met?
He may not have been a star to many. But Paul LaPalme's family were stars to him.