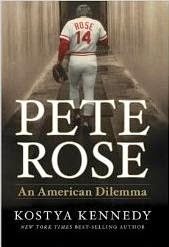 I approve.
March 15 is the date for the 32nd CASEY Banquet. Spitball Magazine honors a top baseball book each year.
Getting 2014 winner Kostya Kennedy, author of
Pete Rose: An American Dilemma
, to attend as guest of honor is genius. A standing ovation to
Spitball Magazine
wizard Mike Shannon. If America can have a poet laureate, why not a baseball book ambassador? I nominate Mike.
Too many journalists have been unwilling to examine autographs as part of their biographies of baseball icons. The autograph is what links the hero to the ordinary fan.
Kennedy observed the Rose signature factory in full production. He wrote about
Pete's signings
, even considering what the real value of other baseball autographs might be. Sample Kennedy's writing on his sterling blog and you'll clamor for his Rose book, too.