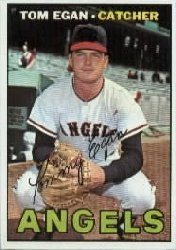 Same Swell Sig!
Teen Tom Egan began his catching career with the 1965 Angels at age 18. I wrote to Egan, asking if he ever felt uncomfortable around his older teammates.
"Yes, they treated me more like their little brother and I didn't go out after the game."
Egan blossomed as a power hitter, belting a career-best 10 home runs for the 1971 White Sox, matching his combined total from six prior years of part-time work. His breakout season wasn't due to any adjustments at the plate.
"Always had the power, just got more at-bats."
On Sept. 28, 1974, the unflappable receiver may have been the first to predict Nolan Ryan's third career no-hitter. When did Egan's mind switch from "good game" to "making history?" Egan replied:
"I knew he had great stuff after the first inning. When Nolan got his change and breaking ball over, the opponents had very little chance."