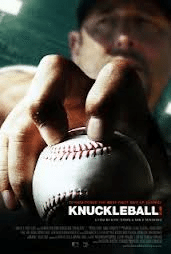 Better late than never.
I kept putting off the DVD viewing of Knuckleball. I was like the kid determined to make my Halloween candy stash last until Christmas goodies were available.
Sure enough, this baseball feast waited for me, helping to stave off the hunger I felt as the regular season ended.
First of all, I'm calling this a movie. Nope, it's not fiction. Doesn't matter. "Documentary" makes some viewers squirm. As in, "that sounds good for me, like a platter of turnips. Can't we watch a movie."
That's code for "movie = fun."
Knuckleball is fun. We see the characteristics of the pitchers brave enough to throw a maligned pitch. Hall of Famer Phil Niekro is a Hall of Fame storyteller, a skill never showcased before this movie.
Credit directors Annie Sundberg (no relation to Jim) and Ricki Stern with coaxing great answers from R.A. Dickey, Tim Wakefield and Charlie Hough, too. I was amazed at the golf-weekend conversations captured as the four knuckleballers interviewed each other.
There's more than an hour of bonus materials. Sundberg and Stern did their homework with these extended interviews.
My favorite moment in the movie? Dickey asks Hough to review one of his past games by video. They watch, only to giggle delightedly when a struck-out Pirates batsman goes nuts in the dugout, smashing his lumber.
"Sure. Blame the bat," Hough chides.
I've written before about asking good questions. Red Sox catcher Doug Mirabelli speaks at length about "Wakey." It's easy to imagine the pitch, harder to appreciate the men who've depended on the alternative. Such moments stress how to get at the "how does it feel?" aspect of baseball.
The World Series doesn't last forever. If you fret about being able to survive until spring training, here's the solution. This Knuckleball is the perfect pitch for this off-season.