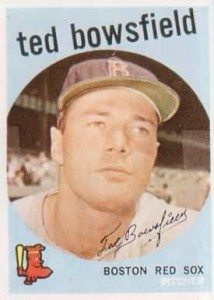 Same sweeping sig
five decades later!
Yankee haters should send Ted Bowsfield valentines each year.
The Boston-New York rivalry existed in 1958. Red Sox pitcher Bowsfield bested the Bronx Bombers not once, not twice, but three times. Yankee manager Casey Stengel called the pitcher "the feller that throws them ground balls."
In an exciting letter, Bowsfield explained:
"The Yankee wins in 1958 were very special and a lot of fun. The two wins in Yankee Stadium were a little easier, just because of the sizes of the ballparks. Boston was tougher and maybe a little more rewarding. The N.Y. fans and Boston fans were great, but they always are when you win!!


The press was very good to me that year, but they changed when I struggled the next year. Winning makes for easy print, also."
Bowsfield reached double-digit win totals with the 1961 Angels.
Of course, historians feel it's required by law to say EXPANSION Angels! I asked if being with a just-formed team seemed tougher than with an established franchise like Boston.
"My two years with the expansion Angels were two of my best and fun years in the majors. Greater owner (Gene Autry) wonderful organization. Manager Bill Rigney and staff were superb, but all that pales to the group of guys I played with. They were all wonderful and buddies forever. The chemistry on that 61-62 team was the best I ever saw and probably a big reason we did so well. Can't say enough about those two years. My whole time in the bigs was a dream come true and those two years are etched in the old memory bank forever!!"
Bowsfield wasn't shy about using "fun" to describe his baseball experiences. His love of the American pastime is remarkable, considering that he grew up in Canada. Not hockey? Did he feel one sport got more respect?
"I did play a little hockey as a kid. Not very good. Couldn't skate well enough, but a lot of hockey players played baseball also, and I played semi-pro with some of them and they were good players. So hockey and baseball went well together!! They were viewed equally. Just more hockey players than baseball players."
The humble hero left out one important detail about his country of origin. Bowsfield was elected to the Canadian Baseball Hall of Fame in 1988.
From 2006, here's a fine retrospective about Bowsfield's beginnings by Canadian baseball historian Kevin Glew.
Tomorrow: pitcher Doug Rau recounts the role he played when Rick Monday saved the American flag April 25, 1976.