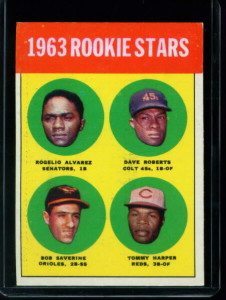 Bob Saverine might be one of baseball's most patient names of the 1960s.
Although he debuted with the 1959 Orioles at age 18, he'd wait a full four years before his first baseball card appearance.
He waited a year for another crack at sidewinding reliever Ted Abernathy. The patience paid off in a first career home run on June 19, 1963. Saverine explained in a thoughtful letter:
"I had faced Ted Abernathy in triple-A the year before. I learned to watch his knee when he delivered a pitch as the knee would turn aside and the ball would follow.

I saw the pitch well and it did not curve as it ordinarily would. thus I hit it for a home run."
Tomorrow: Saverine pays tribute to manager Gil Hodges.