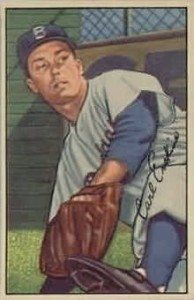 Pitch-perfect penmanship,
even in his 80s!
Where have all the Carl Erskines gone?
I don't mean fellow Brooklyn Dodgers. I mean baseball AMBASSADORS. Retired? I don't think so. Every day of the year, he's honoring and thanking fans and collectors.
I asked "Oisk" about his feelings about autographs. Here's his inspiring reply:
"I usually receive eight or ten letters on the average each day. I try to answer right away, because when I can't, they pile up.


I do them all myself and read each one. I consider fans the backbone of the game — and I consider signing an extension of my career."
Who writes? What do they say in their letters?
"When I read these requests, they range from fans who saw us play, young fans who have read about us, men in prison writing for their own kids — birthdays, anniversaries, etc.


I just can't throw these requests away."
How can we thank this Dodger hero?

"I was once interviewed by Baseball Collectors Digest. I said I don't charge for signing, but ask they [collectors] help Special Olympics if they/you can. Now, I often get 5 dollars, a check for $10 to $25 to help our local Special Olympics."
Erskine closed with a message to other major leaguers, past and present:

"I'm bothered by players who, or their agents, restrict their signing to make their autograph more valuable.

That's an insult to the fan base that made their autograph sought after.

Carl Erskine"

Coming Monday: What did catcher Mike Piazza tell Turk Wendell when he went to the mound?