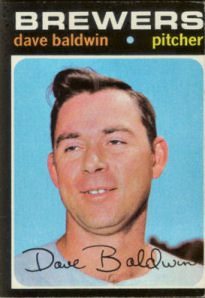 From the pitcher's own website:
"Dave's now famous
Howdy Doody impression."
Dave Baldwin proves that there's life beyond baseball. Since retiring as a pitcher, he's become a poet, academic (Dr. Baldwin holds a Ph.D in genetics), artist and author.
His memoir Snake Jazz (baseball lingo for a certain pitch) is something all fans should savor. How does it FEEL to be a major leaguer? Baldwin paints a complete picture. Every baseball bookshelf deserves Snake Jazz.
Speaking of painting, you can see his art on his website, too. You can order autographed copies of the book directly from Baldwin.
I asked Baldwin about his first victory in the bigs, a 20-inning affair in Minnesota that took just under six hours. It was a win, not a save. The save applied, as in "save face." Baldwin shared:
"In that 20-inning game in Minnesota, I was trying to redeem myself after losing the previous game on a very stupid pitch. The longer an extra-inning game lasts, the more determined both teams become to win it.

Ken McMullen hit a home run to win the game, which put us over .500. I don't remember how many fans were there at the end of the game."
Tomorrow: Baldwin shares more memories of the 1967 Washington Senators.