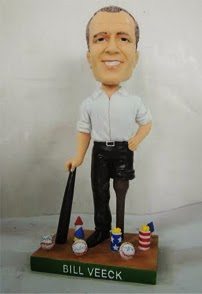 The Charleston River Dogs minor
league team gave the first 1,000
fans at their 7/19 game this
amazing bobblehead. Credit son
(and team president) Mike Veeck
for the creation, marking the year his
dad would be 100 years old!
Roland Hemond should write the Hall of Fame plaques. I asked him about his one-time boss, Chicago White Sox team owner Bill Veeck. I'm moved by his tribute that he was so kind to share with a fan.
"Bill Veeck was the most incredible person I have met," he wrote. "Bill suffered war-time injuries that led him to 36 operations over his lifetime. Yet, he never complained. But I'm sure he was in pain on a day-to-day basis.
"He was highly intelligent, creative, extremely well read, a visionary, daring, creative, loved people of all races, and awaked the others that baseball is a great game. But, on-field promotions could enhance the popularity of the game with joy for people of all ages and draw them to the parks and to return whenever possible.
"I cannot do him justice in a short letter."
Nor I for you, Mr. Hemond!