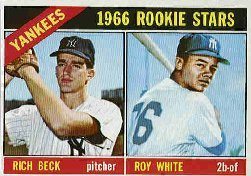 Sounds like a monster movie:
The Teacher Wore Pinstripes!
Looks like he's pitching to White…
Would you rather face hungry American League hitters, or a classroom of ornery high schoolers?
Rich Beck has done well against both lineups. A veteran teacher, Beck's career was cut short by military service during the Viet Nam War.
Beck writes like a great teacher. He began his reply with:
"Wow, Tom! You are testing an old fella's memory but I'll try to answer your questions."
Then, in the first time in the history of this blog, I received a hand-drawn SMILEY FACE!
First, I asked about one of his most dominating games, striking out eight Senators. Did the Ks come from fastballs or breaking stuff? Swinging or called?
"Probably fastballs and sliders. Don't recall called third strikes vs. swinging but there is a website (address escapes me but suppose you can Google it) that gives play-by-play of games back to that era and that would answer the called vs. swinging question."
Beck is referring to http://www.retrosheet.org/. Here's the recap of Beck's brilliance.
The same amazing website has the vitals on Beck's Sept. 19 shutout against the Tigers at Yankee Stadium.
Beck added:
"I believe that was a 0-0 game going into bottom of 8th. I do remember Ray Barker, who was playing first base that day, hit a two-run triple in the bottom of 8th. As far as the stats you quote…it was ugly but we turned two DPs I believe. I remember getting out of one inning with a fly to left with the bases loaded."
I never got to cheer for Beck the Yankee. However, the work he's doing as a teacher is worthy of a standing ovation. In fact, I cheer for all educators. A good pitcher wins games. A good teacher changes LIVES. Beck commented:
"I have been a substitute teacher my whole teaching stint — 1992 fall to fall of Nov. 1998 and then against from Feb. 2007 to date after working for a market research firm, The Nielsen Company, from 11/98 to 12/06. Most subbing (95 percent) is done at middle and high school level."
Learn more about Beck with this fascinating biography written by Joe Schuster, available as part of the SABR Biography Project.
One final thought: I read once that Phillies announcer Harry Kalas recorded answering machine messages for fans. Imagine how the late Yankee Stadium PA announcer Bob Sheppard would have sounded on a school intercom.
"Students…now entering the classroom…number 23…former New York Yankees pitcher, Rich BECK!"
Coming Wednesday: The milestone 500th post for Baseball By The Letters