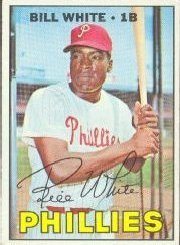 White still begins each
autograph with that
dynamic "B"
How long will Yankees announcer-turned-author Bill White keep signing autographs? For a unique perspective on White's signature, I turned to bookseller Bobby Plapinger of Oregon's R. Plapinger Baseball Books.
"I suspect that the "supply" of signed copies of Uppity will come pretty close to equalling demand for same fairly quickly – UNLESS there's is now, or at some time in the future, something really "special" or.. notorious, about the book or White.
I don't believe his reticence to sign has caused his autograph on items other than books to be especially expensive – I could be wrong though. If I'm not… the cost of a signed book right now – assuming you're not one of the lucky ones to attend one of the tour stops – is probably retail for the book + cost of a Bill White autograph.
Once the book gets remaindered … ITS cost will drop severely – so… at that point the value would be – pretty much whatever White's signature on a different item would be, as the "value" of the unsigned book will be negligible – if that…
I suppose it's possible that at some point in the distant future… when Bill & I & you are long, long gone… there could be some demand for signed copies of this book from future buyers.. but.. geez.. I can't even tell you there will BE future buyers for books – used or otherwise – that far in the future.
It will probably not come as a surprise to you to learn that some of the people who come to see Bill on his "limited book tour" are doing so with the intent of reselling books he's signed for them at a profit.
It's not unusual to see one or two… sometimes more – of these – appear on e-bay relatively soon after purchase/signing. Currently there's one listed at a "buy it now" price of 79.99. It's been there since April & the seller's now soliciting "best offers". So I'd say current price is somewhat less than $80.
Now.. maybe once people read your blog & realize how few signings White is doing it'll increase demand a bit – there are currently 2 signed copies for sale on various used book sites – one for $107, the other for $165….You'd think the two less expensive copies ($80 & $107 would be gone in a month or so…. Will be interesting to see what "the market" is offering then. In the "old days" I might even be tempted to make the e-bay seller an offer, in the hope/belief that at some point in the not-too-distant future I could justify asking $165-ish….. but.. that was then & this is now.
Of course….. if in the book – or because of the book – Bill admits to having an affair with Steinbrenner's wife – or with George – or some such thing…. that could cause prices to skyrocket. But the book's been out long enough that I think you can assume something like that is highly unlikely.
Now.. if you had a copy of the new ESPN book signed by Chris Berman, Mike Tirico & Tony Kornheiser – THAT might get you a couple of bucks……!!!!!
Anyone can receive a PDF of my 2011 Signed Baseball Book List by e-mailing me at baseballbooks@opendoor.com & requesting one. 10% off if they mention your blog & buy something."
Bobby is a true baseball fan and avid reader. He's the best teammate out there for help building an all-star lineup of baseball books.