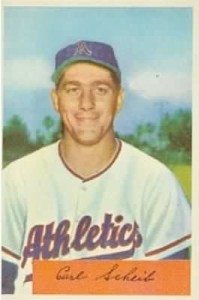 I'm not a huge fan of numbers. Statistics can help only so much. That's why this blog isn't named "Baseball By The Numbers."
Likewise, I think that the simple "asks $5 donation per autograph" doesn't tell the whole story.
I sought out Carl Scheib, who became the youngest player in American League history when he debuted in Philadelphia in 1943 as a 16-year-old hurler.
Is the donation request to discourage autograph requests?
"Heavens, no!" the 84-year-old retiree replied. "I appreciate any mail I receive. I'm grateful to be remembered."
For any player of Scheib's era, consider how much — or little — they made in their careers.
I asked what his top salary was.
"Only $11,000, and I had to hold out for that!" he answered. "There were big stars, then so many players who needed second jobs in the winter."
Without bragging, Scheib added, "We make regular donations to the American Cancer Society (with autograph funds). That's what my wife had."
If that's not enough to get your envelopes ready, Scheib mentioned that any time someone sends him a donation, he tries to include an extra signed card in the reply.
To obtain Scheib's signature, send $5 per autograph and a SASE to:
Carl Scheib
2922 Old Ranch Rd.
San Antonio, TX 78217
A great illustrated history of Scheib's life and career can be found at the encyclopedic Philadelphia Athletics Historical Society website.