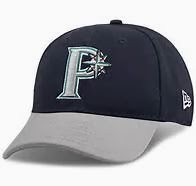 Spring training is here!
Everyone loves looking at prospects. Get their autograph now, before the world finds out.
The Pulaski Mariners (rookie affiliate, Appalachian League) has a star who isn't in uniform.
I knew
Lynn "Chipper" Cripps
first as a gung-ho, always-smiling catcher for my Marshalltown, Iowa high school team. Later, he served with honor as a local police department sergeant, only to face early retirement from being injured in the line of duty.
Lynn never forgot baseball, and baseball never forgot him. After working as clubhouse manager for the Clinton Lumber Kings, he's signed on for the same role in Pulaski to be near relatives.
Gearing up for a new season at a new address, Lynn still found time to answer some questions. Knowing that he may be the one who gets fan mail to everyone on the roster, I wanted to ask him what he's seen.
Q: How were your Midwest Leaguers in signing autographs?
A: These young Minor League players that I had the honor to be around were fantastic about signing autographs in person and through the mail. The only difference is when they had time to sit down to do it some would do them right away while others would wait until they received more quantity and then do them.
Q: Do you know if they get any coaching regarding autographs?
A:

The only guidance I say they would get from management would be to try and be as professional as you can be all the time.
Q: Does anyone teach the abbreviated, short-hand autograph?
A: S

ome are really neat about it and some are not what I have noticed as they move up the ladder is that YES the autograph gets condensed.
Lynn's story is important for another reason. Those behind-the-scenes heroes who keep the farm teams thriving, who help today's minor leaguers become tomorrow's stars, are often as devoted to the sport as we are. They have pasts as inspiring as any player. A tip of the M's cap to you, Chipper!
Coming Thursday: Talking autographs with fabled pitcher Ned Garver