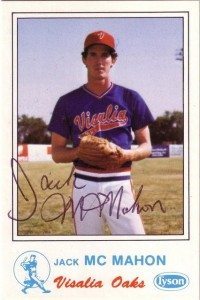 A Favorite BASKETBALL
Teammate of Kirby Puckett!
I profiled Dan Cote and his "Signed DC" blog in the Jan. 15 edition. Then, I discovered exhibit A of why he's a great hobby example to follow in 2011. He's been harvesting history while getting the 1983 Visalia Oaks set signed. A guy named Kirby Puckett played his first full pro season with that California team.
As Dan tells it:
"The Visalia pursuit was kind of a happy accident. I did a lot of TTM collecting when I was a kid, from the age of 10 until I was about 15 (approximately 1987 to 1993). On a whim, I sent out a few letters last April. As it turns out, I awoke a monster that had been in hibernation for around 17 years! I was kind of directionless at first, but then my focus became clear.
1) Minnesota Twins
2) Minnesota North Stars
3) Minnesota-born athletes
While going through my old cards to find players to write to, I kept coming across Twins minor league cards from the late '80s and early '90s. The players addresses were harder to find, and I kind of enjoyed that challenge. It felt more rewarding putting the work into really hunting for an address rather than simply finding it on SportsCollectors.net or some other autograph site. Eventually I found my 1983 Visalia set locked away in a safe in my old bedroom at my parents' house.
I was lucky enough to get the Puckett card signed at an appearance he made for a Hyundai dealership opening in April 1988. I started tracking down the other guys in the set, and after the first few responses I was hooked.
Phil Franko was my first return, on June 21. He wrote a great two-page letter talking about his career, playing with Kirby, and told me what he's doing now. The very next day, Lee Belanger's return came with another full letter. Two days later, another return and another letter, this time from Curt Kindred. A few days later brought another big letter from Erez Borowsky. It kept on going from there.
Not everyone in the set has included a full letter to me with their return, but most have. And that is really what makes the project so special. Most thanked me for writing them.
I really have utilized the internet for this project. A couple addresses were found on SCN, but whitepages.com and Google have been my greatest resources. Most of the addresses have come from searching whitepages and making educated guesses.
I found Ron McKelvie (the team trainer, who has a card in the set) on Facebook and he graciously sent me his mailing address. Googling Frank Ramppen eventually revealed that he is essentially Bobby Valentine's sidekick. He was his bench coach in Japan and now runs Bobby V's sports bar and his baseball camp. I wrote to him care of the restaurant.
After I found Bob DeCosta's address on whitepages, he tracked me down on Facebook and hooked me up with an address for Jack McMahon (teasingly called "the best white basketball player ever" by Puckett, he wrote to Dan). They were minor league teammates and Jack was in Bob's wedding, but they hadn't seen each other in about 20 years. Bob told me that my letter inspired him to give Jack a call. They were going to get together for a beer for the first time in two decades, thanks to me. That's pretty awesome.
Anyway, I seem kind of stuck on the project at the moment. I haven't had a return from this set since September 20, when Jeff Arney and Craig Henderson arrived on the same day (after being out for over two months each). I have 17 of 25 done, including Puckett.
In some cases, just doing a google search for a player (sometimes while also entering keywords like "Minnesota Twins," "Visalia Oaks," or "baseball" will help. Especially if you use that in conjunction with whitepages. Sometimes a google search will reveal where somebody is now, and a whitepages search focused on that locale will give you an address. It's especially helpful for common names.
In most letters I did ask what it was like playing with Kirby. I asked if he was the same larger-than-life personality then as he would become in Minnesota. I also would usually ask the players if they kept in touch with any of their old teammates and would ask what they are doing now and if they're still involved at all in baseball.
The team finished 87-53. They won their division but lost in the league championship series."
Once, the set sat unnoticed in a dark safe. Now, it's unlocking stories of baseball history. Dan Cote may be "Comeback Collector of the Year" for 2011.