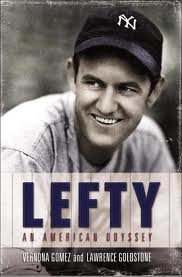 Although he's been gone more than 20 years, Yankees Hall of Fame pitcher Vernona "Lefty" Gomez may be baseball's literary Rookie of the Year this season.
Credit daughter Vernona Gomez and Lawrence Goldstone for co-authoring Lefty: An American Odyssey (Ballatine Books, $28).
This title could be called an overdue biography. In 1978, author James Michener first offered to write Lefty's life story. Schedule conflicts scuttled the partnership. However, Lefty's daughter volunteered to take over the project.
The book is fascinating on so many fronts. First of all, equal time is devoted to Lefty's wife, Broadway star June O'Dea. Their marriage lasted just shy of 56 years.
Continuing that theme, the book gives great insights to the Yankee wives who were friends of Mrs. Gomez. Rarely are players of that era shown as off-field people. The couple may have been the first to hear from Joe DiMaggio (a Lefty roommate years earlier) that he planned to re-marry Marilyn Monroe.
For collectors, this book has more than a half-dozen remarkable autograph anecdotes.
Joe McCarthy used autographs to monitor a player curfew during road trips, Gomez later shared.
"Joe gave a baseball to the elevator operator in the team hotel. As the guy took a player up to his room, he asked the player to autograph the ball. When the clock struck twelve, he collected no more signatures. We all knew what Joe was doing but we still had to get our signatures on that baseball."
After the manager checked for missing autographs (of AWOL Yankees), he'd allow the hotel employee to keep the baseball.
For the 1933 wedding of Gomez and O'Dea, the priest told Lefty that all the altar boys wanted to be in the celebrity service. Only two were needed. When Lefty offered to give autographed team baseballs to the other boys, all the kids decided they'd rather have the souvenir than be in the ceremony!
Gomez was a regular at Hall of Fame weekend induction ceremonies at Cooperstown, signing autographs for one and all. Once, he offered his own view of autographing:
"How do you know your career is over? The fans don't give you a clean ball to autograph. Instead, they offer you one filled with other autographs and say, 'See if you can squeeze your name on it somewhere.'"
Before Joe Garagiola and Bob Uecker, baseball's resident wit wore Yankee pinstripes.
Remarkably, the Hall of Famer's daughter offers a journalist portrait of her dad, far removed from his famed one-liners. One chapter details his infidelity and a near-divorce. Another looks at the alcoholism that resulted from a grueling post-baseball schedule as a Wilson Sporting Goods nation-wide representative.
Ultimately, Lefty shows a joyous, grateful man who dedicated his life to the sport he loved. Put the pitcher on your reading schedule.

Coming Monday: Author Vernona Gomez talks "Lefty" and autographs.