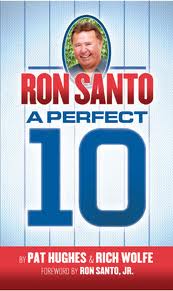 (With 24 Pages of
Great Photos!)
I just received my copy of Ron Santo: A Perfect 10, by Pat Hughes and Rich Wolfe (Lone Wolfe Press, $24.95). Wow! I read it all in one sitting. If you ever cheered for the inspiring third baseman or joined in the groans and gasps of his agony-to-ecstasy Cubs broadcasts, you'll devour this title, too.
I don't even believe the book has typical chapters from friends, family and co-workers. Instead, I think each chapter is more like an insightful letter — a personal correspondence with readers and one last love letter to Ron.
Most surprisingly, I found lots of autograph-related content in this pages, such as…
"After those games, on the ride home, fans would be everywhere," wrote son Ron Santo Jr. "Dad would sign autographs at every stop sign on our route through those Chicago neighborhood streets, all the way to the Kennedy."
Broadcaster and co-author Pat Hughes wrote, "People would write us letters, not just about baseball, they'd write Ronnie letters telling him that their own child was suffering. Ron would read these stacks of fan mail and he'd take them on the road with us." Sure enough, the eternal Cub would CALL the challenged families, offering a specific heart-to-heart talk with each diabetic child.
Son Jeff wrote of his dad's pride and ego. "He would get fan mail and if any came in addressed to 'Santos' he would throw it in the garbage. 'They don't know who I am.'"
I was moved by the chapter by Adielene Santo, Ron's older sister. She told of preparing to attend the wake after her brother's funeral. She chose to greet and thank the fans standing behind barricades. "He loved you, and I know he'd want me out here." Shockingly, some of the fans asked for her autograph, which she declined politely.
While Ron's sister seemed forgiving of overzealous collectors, she witnessed the best in the days after her return home. "I got fan mail," she said. "The letters I got were beautiful."
When can an autograph be life-changing? I think Ron knew the answer. In the chapter by Suellen Johnson, who helped organize the first Ron Santo Walkathon for the Juvenile Diabetes Research Fund (JDRF), she writes:
"One of my daughter's prized possessions from 1979 is her baseball glove that reads, 'Congratulations on doing your own shot. Your friend, Ron Santo.'"
A portion of the proceeds from book sales will be donated to JDRF. I can still hear Ronnie shouting, "This must be the year!" If I might borrow his microphone, let me add: "This must be the book!"