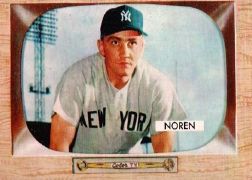 Joe DiMaggio? Derek Jeter? Did they ever rival Irv Noren's streak?
Noren, now 85, has seemed to call it quits on signing by mail. I received the note, "Sorry, Mr. Noren is not signing or writing his info now. Sorry. J. Noren."
I looked him up on the first-class hobby website, www.sportscollectors.net. He had signed 186 consecutive TTM requests that were posted before another, "not signing any more" decline was sent.
Noren was great about adding requested inscriptions. He had filled out questionnaires for fans.
Is it ill health? Noren never wanted to sign blank index cards. Did the fan mail onslaught become too much at his advanced age?
Another sign that the hobby clock is ticking. Send to those 70-and-over retirees sooner, not later. It could be too late.