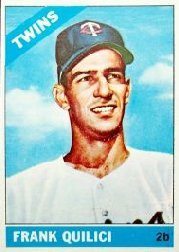 One of the things I love about baseball? You can't assume anything.
Growing up in the Midwest, it seems like Frank Quilici is a Twins tradition. Whether infielder, manager or long-time color commentator, he's a big part of team history.
Reading about Frank, the first surprise that popped up was his nickname:
Guido.
Not being Italian, I puzzled at the accounts of teammates tagging Frank with "Guido." Was this just a sign of more relaxed, less-politically correct times?
Try listing all ethnic nicknames for current players. Can you think of any?
I asked in a letter, along with a request for memories of Metropolitan Stadium and that 1965 A.L. Championship squad. I received a sparkling reply to my letter:
"Guido is my Dad's name in italian. he loved baseball and we enjoyed every day that we could play catch and go to the park. Guido means 'Guy' in English. I was proud and happy that the guys called me my dad's name. I was very proud of him and my mom.

Metropolitan Stadium was a big playpen for my four children. As they grew up, they loved being there and loved the people who worked for Calvin Griffith. It was like extended family. Bob Showers has a great book out called The Twins at the Met

"The 1965 team was led by our silent leader, Harmon Killebrew. Our veterans were really class guys and we played day by day, forgetting the last game and looking forward to the next.

"My life in baseball was magic but not without setbacks and fighting for everything I earned. I loved every minute that I wore a Twins uniform.

"Best of Luck. Go Twins! Frank Quilici"