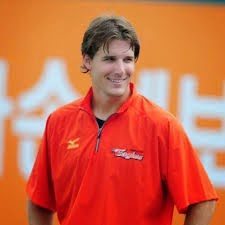 A 2014 Hanwha Eagle
(courtesy Ryan Tatusko)
Some say the love the game.
I marvel at players like Ryan Tatusko. A major league organization sells your contract to another league in another country? No problem for newly-married former Texas Rangers and Washington Nationals prospect who wound up 2014 pitching for the

Hanwha Eagles in Korea.
Some collectors seeking signatures on Tatusko's 2011 cards who blinked may have puzzled at how to find the hurler.
Just look on social media. Facebook. Twitter. He never forgot his fans.
Knowing that postal mail could be tricky, I vowed to get a burning question answered online:
Do baseball fans in Korea crave TTM autographs as much as we do?
His reply?
"We don't get SASE stuff, but the fans wait and wait and wait for us to come out of the stadium. And I don't think they've seen my cards (Korean?) back in the states."
My bonus? I suggested that the right-hander ask his newlywed wife for her autograph, considering all the challenges she's facing [He praised you as "unbelievable," Mrs. T!] as he works in a new country. He added:
"I do. She won't give it to me. LOL."
I don't know how many games Tatusko could win for a 2015 team. However, I can't imagine any other pitcher, this side of Pat Neshek, winning more fans than "Tusk" could.