It's time to root for a gamer.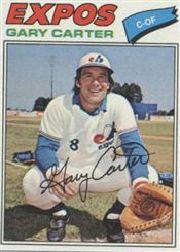 Keep Smiling, Gary! Your
autograph got stronger
with time. Do the same!!!
Hall of Famer Gary Carter may be fighting for his life.
I called his Foundation, run out of his personal office. His assistant said that future announcements about Carter's health would come through the Mets, or the Baseball Hall of Fame.
Most importantly, for all the fans and collectors who've wanted to send a note of thanks or hope to Carter should write:
Gary Carter Foundation
580 Village Blvd., Suite 315
West Palm Beach, FL 33409
I'm assured that any cards or letters will be delivered to Mr. Carter and his family.