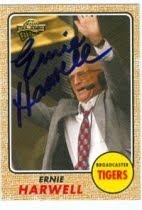 We're all grateful this morning for the life Ernie Harwell devoted to baseball — and baseball fans. This is what I'll remember most about the Voice Of The Game:
1. Ernie remained humble about his Christianity. He wasn't one to attach a Bible verse to every autograph. However, the signed photo he provided for my friends at Kings Christian Bookstore (in Boone, Iowa) includes "Mathew 6:33," only because I requested that he add a favorite verse.
2. Ernie signed my photo across his forehead! When Ernie signed an autograph, he provided an interaction. He wasn't creating a museum piece. He was making a memory.
3. Read The Babe Signed My Shoe (Honoring a Detroit Legend)

to get an idea of Ernie's attitude about autographs. A signature was a signature. Someone might grumble that Ernie signed the Topps Fan Favorite card in the dark upper half of the photo. Nevertheless, I don't think Ernie spent much time fawning over what future generations might make of his face or his autograph.
4. This Southern Gentleman was an all-star at the Palmer School of Penmanship. I looked up countless autographs online after news of his death. Each time, every one of the 12 letters in his name are clear. I'm guessing that he'd provide the same clear signature for one and all, even when a crowd clamored for his autograph.
5. Warner Fuselle, a former narrator for This Week in Baseball, advised me on a book project years ago. "Try Ernie Harwell," he suggested. "He's the nicest man in baseball."