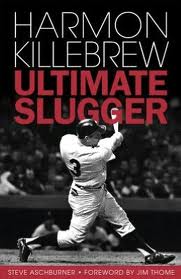 I grabbed Harmon Killebrew: Ultimate Slugger (by Steve Aschburner, Triumph Books) to relive my childhood.
I grew up in Central Iowa. I remember WHO Radio being a Twins station. Families felt safe going to the Twin Cities. They weren't scary cities like Chicago or St. Louis, but a place where your cousins lived and Met Stadium bordered farm fields.
This 2012 Killebrew book is bittersweet, in that the author confesses that he wishes he could have written a first-person "as told to." Instead, the book is a catch-up effort after the Hall of Famer's 2011 death.
Nevertheless, talented researcher Aschburner makes the most of the opportunity, even gleaning some nuggets of special meaning to autograph collectors. Such as:
In 1985, Killebrew's hometown of Payette, Idaho, had two business boosters who imagined painting red stitches on the white high school gym dome, then adding a huge facsimile Killebrew autograph. The plan was scuttled only when students protested giving priority to only one former resident.
In a 1959 game, Killebrew exchanged autographed baseballs with President Dwight Eisenhowever. He claimed the ball was for grandson David. When Killebrew met David in 1970, he told the slugger how he had kept the signed ball all those years.
Overheard behind the Metrodome batting cage? Killebrew to Joe Mauer: "Your swing is perfect Joe. Now work on that autograph."
Autographs may have played a role in Killebrew's retirement. Aschburner recounts a Killebrew tale during his final year, 1975. He signed baseballs for two kids at Anaheim Stadium. He overheard the kids discussing the autograph.
"Well, is he any good?"
"He used to be."
Killebrew concluded, "I mean, kids tell it like it is, and he was right. It was time for me to quit."
Avid Twins fans will love the book most. Ashburner slows down the narrative, piling on details about other Twins and the team's history. Someone tuning in strictly for Killebrew tales may get impatient.
As editor, I would have shaved content.
Of course, dedicated Twins-atics might protest. Where else will you get a comprehensive rundown of every word Jim Bouton wrote about Killebrew in Ball Four? Or, what all got said during Killebrew's two appearances on the David Letterman show?
All in all, Ultimate Slugger fills a void in Hall of Famer history. If you remember this "Killer" (autograph or not) and smile, you'll want this on your reading list.
Coming Monday: a challenge for on-the-move TTM collectors.