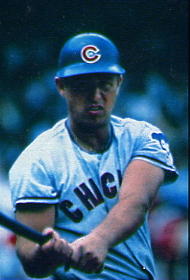 The famed SI poster that
graced my closet door!
Ron Santo will always be my hero.
Thanks to regional TV broadcasts in Central Iowa, the first game I ever watched was a Cubs game. Jack Brickhouse adored Ronnie. How could anyone feel differently?
The closet on my bedroom wall was adorned with Santo's Sports Illustrated poster, circa 1968-69. Imagine my heartbreak upon our move, when I realized that my parents had Elmer's Glued Ron to the door.
The shock of the Santo trade to the White Sox prior to the 1974 season brought a surprising response from my Dad.
"If he's in the American League now, I won't mind the drive to Minnesota."
For years, my folks grimaced over my yearly requests for a vacation to Chicago. Downtown Chicago? City driving?
The Twins, however, seemed like an off-ramp team. Metropolitan Stadium was as easy to reach as any roadside diner.
I'll never forget hanging over the rail at the "Met." No other fan was seeking pre-game autographs from the visitors. This geeky junior high schooler knew he may never get another chance to thank his hero.
Instead, all I saw was Dick Allen, pacing the dugout.
"Mister Allen," I pleaded. "Would you ask Mister Santo to come out, please? I came from Iowa. I'm a big fan!"
I thought the slugger might slug me. I heard a loud snort and groan. Or a growl? He spun and disappeared.
Seconds later, I saw Santo peer around the corner. Only his head emerged, in puppet-show fashion.
"Please, may I have your autograph?" I gushed. "Thank you for being my favorite player all these years. I'm from Iowa. My folks never wanted to drive all the way to Wrigley Field to see you play. This is closer!"
Yes, I said it all. Ron Santo borrowed my pencil and signed the cover of my Twins program. He restrained his grin, only nodding when I thanked him. He retreated to the shadows. I floated back to my seat.
Only this week did I realize that I got an assist in being face-to-face with my hero. From this day forward, I'll always believe that mysterious, misunderstood Dick Allen made my case to his new teammate, asking him to take pity on an awestruck Iowan.
In the 1980s, I had a five-minute chat with Santo at a sports collectors show in Tacoma, Washington. He loved the story of the Minnesota autograph, without commenting on any role Allen may have played in that day. I thanked him for sharing his diabetes story with the baseball world. He seemed embarrassed at such praise. Why did he reveal his diabetes when he did?
"I never intended to keep it a secret," he said to me. "I just didn't want it to sound like an excuse."
Ron vetoed a trade to California in the winter of 1973. This time, I'm sure he'll be a starting Angel.