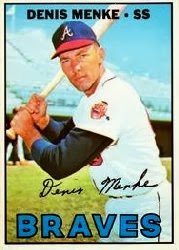 Let me shatter one myth about baseball retirees.
"But I never saw him play!" you might say. "What do I write to him about?"
The answer is in your return address.
Choose someone who is a native of your state. Or someone who found minor league glory on a team in your state.
I was in a Dodger Stadium locker room in 1988. After a LONG game, I stopped in theHouston Astros locker room. I saw an exhausted coach, an Iowa native. Should I ask Denis Menke about the Big Red Machine days, playing beside Henry Aaron? What would he be interested in discussing.
"I know who your high school coach was," I began. "The state high school tournament was held in my hometown. I saw your team just miss a state title."
I watched the years melt off Menke. He perched on his locker stool. A multi-topic chat ensued.
"Wait!" a reader might grunt. "I don't want to hear about high school baseball or the minors."
Ah, don't forget the bigger picture.
Make a connection. You may have something more in common with that name from baseball's past than you think.
Here's a question for your next letter:
"How did you get from here to there, to the majors/All-Star Game/etc.?"
Sculpt the clay, putting it all in your own words. Watch the reactions. The question works!