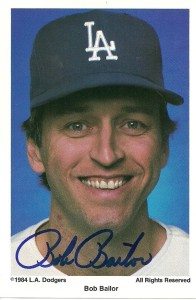 Mr. Bailor seems to send this
postcard out with all
replies. Somehow, I
received no response from
this generous ex-Dodger…
I've seen the results posted on http://www.sportscollectors.net/. These names responded to TTM autograph requests. I thought they'd field questions. Here's my "still waiting list that dates back to Jan. 24, 2010:
Baldshun, Jack
Bailor, Bob
Brewer, Tom
Busby, Steve
Clarizio, Louis
DeMaestri, Joe
Dyer, Duffy
Dukes, Tom
Elia, Lee
Gardner, Billy
Gernert, Dick
Gosger, Jim
Hansen, Ron
Hook, Jay
Howard, Frank
Hunter, Billy
Logan, Johnny
McAnany, Jim
Mueller, Don
Miller, Stu
Mitterwald, George
Nossek, Joe
Schultz, Barney
Segrist, Kal
Semproch, Ray
Skizas, Lou
Smith, Hal W. (Pirates)
Speake, Bob
Stevens, Ed
Stynes, Chris
Suarez, Ken
Tasby, Willie
Walling, Denny
Ward, Pete
Warden, Jon
Wieand, Ted
Zuverink, George
What does this mean? There's so many possibilities. Some hunches include:
1. Is writing to someone write after a signing success is reported online always a good idea? I've wondered if a surge in mail overwhelms some lesser-known retirees.
2. Some of these guys answer questions. But they are content handling the identical query time after time. Who was your toughest pitcher? What was your greatest thrill? They have a stock reply. Anything else that makes a former player think hard gets ignored.
3. Signing seven cards then including an extra autographed photo seems like a lot. I've assumed those "above and beyond" responses might not mind jotting me three sentences, since I'm not asking for a single signature. However, rapid-fire autographing is a comfortable habit. Putting words to one's past may not be as pleasing.
Despite the fact that some of these men show up weekly on autograph forums as "can't miss" responses, I'm not trying them again. Besides, I see that some autograph replies have taken 5-10 years. I'll try to be patient as I seek a new roster of baseball letters for 2011.