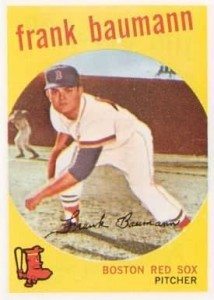 Pitcher Frank Baumann grew up in St. Louis. Although he hurled for the Red Sox, White Sox and Cubs, I wondered if he hoped to work for his hometown team. He wrote:
"I had the chance and am sorry I didn't sign with them."
I read about Baumann's seven-hit win against the Tigers in 1961. Baumann banged out three hits and three RBI to help his own cause. Based on his batsmanship, might he have strong feelings about the designated hitter rule?
"I DON'T LIKE IT."
Talk about heartbreak! On July 13, 1961, Baumann threw 6.1 innings of scoreless relief against the Yankees, adding his second homer of the year. The team's loss overshadowed his day, bailing out future Hall of Famer Early Wynn. What stands out from that day?
"The home run with Sherm Lollar."
You've got to love http://www.retrosheet.org/. They were the source of unraveling this mystery. Baumann was referring to the home run HE hit. However, the pitcher's blast was back-to-back after his batterymate, following Sherm Lollar's no-out homer to lead off the fifth inning against Bill Stafford. It's easy to imagine the glee on the White Sox bench, seeing the #8 hitter then their pitcher break the Yankee shutout with two unlikely dingers.
Baumann (whose name has been misspelled with just one N on some hobby websites — be careful when sending your fan mail) summed up his career succinctly:
"I loved it and wish I was still in some place with it."
In other words, Baumann, like yesterday's featured Ernie Fazio, misses being a part of the game. A team's speaker's bureau? A card show guest signer? These men still have stories to tell. Someone needs to tap into this wealth of living history.