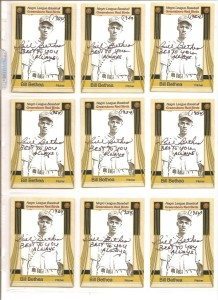 One of Cam Perron's first creations
to assist a Negro Leaguer
Cam Perron may be signing an autograph for you soon.
This amazing 16-year-old collector has moved from mere autographs to becoming a respected researcher and advocate for Negro Leaguers. Making cards. Helping a retiree qualify for a Major League pension. Organizing a reunion in Alabama for league survivors. He's getting everyone's attention, even telling Boston Red Sox players about these baseball pioneers he's reconnected with the sport and hobby. The official team website video is testament to Perron's passion.
I received two glowing endorsements of Perron, the first from Audrey Vernick, author of a fine biography of Hall of Famer and Negro Leagues team owner Effa Manley. Subsequently, Kyle Smego of always-stunning website "The Autograph Addict" shared the Red Sox video and his praise.
I was delighted to get Perron's e-mail responses to my questions. His stories amaze and inspire me!
Q: When did you progress from a letter asking for an autograph, to a letter asking questions or more? What's a typical letter like today to a Negro Leaguer for you? Have you been able to ask specific questions about teammates or past seasons?
A: Once I started getting more into the researcher, over just getting autographs, I began asking players certain questions in the letters. I would ask if they had any photos, stayed in touch with any teammates, and I would pretty much just drill them with questions in order to find out as much as possible.
I don't really have a typical letter I send to negro leaguers any more. 99% of the time I speak with them on the phone first to explain to them what I'm doing, etc. When I write to them I write a note saying that
"I am the person they spoke with on the phone, enclosed are some photos and articles from your career, some phone numbers and other info. I have enclosed 2 baseballs and some index cards I would like you to sign." Then I draw a diagram of a baseball and how they should sign it with blue pen on the sweet spot. Most players have never signed a ball since they played, and they don't know how to make it look nice. Many signed on the Bud Selig signature, or sign through the seams if not told otherwise.
Yes, I have been able to ask specific questions about teammates and past seasons. After speaking with a player a few times, (I'm primarily taking about the players that I've tracked down and no one has ever spoken with before), I usually ask them if they remember any teammates and where they were from, from a specific season etc.. I ask them as many questions as possible to get as many names as possible out of them. More names = more players I can find.
Q. What about collectors who'd think: "How do you write to a Negro Leaguer? Aren't they bitter at the bigotry, that they never got to play in the majors?" What are examples of happy memories you've gotten from Negro Leaguers by mail?
A: There are a few ball players who are disappointed that they were never recognized and never make the majors , and 99% of the time, those are the guys who won't sign through the mail. Those type of guys want nothing to do with their careers, therefore never sign and are tough to deal with if you're talking about baseball. I've spoken with many ballplayers who are the nicest guys in the world, but when it comes to baseball it is a very delicate subject for them. Many ballplayers like to sign and those guys I will give their addresses out with permission. They will sign ttm, sometimes for a few bucks.
As for happy memories, I've gotten hundreds of letters back from ballplayers thanking me for everything. I've had 100s of players call the house after they receive a package from me. Many times players think I am just doing a school project or something, but when they receive the packages I send to them, their attitude totally changes. I've had players cry on the phone and write 5 page letters thanking me for sending them information such as photos, or getting them in touch with teammates they haven't spoken with for 50 or 60 years.
Q: What other baseball autographs do you collect by mail? How many requests do you mail out weekly? Where do you find your addresses?
A: I collect retired ballplayers from the 40's 50's and 60's. I have a few thousand 50s 60s and 70s cards signed. I used to mail out like 15-20 a week, but now I'm lucky if I mail out 10-15 within a 2-month time period. I have just been so busy lately with the negro league reunion I helped organize in Birmingham, and dealing with all the ball players I find, and call the house, so I haven't really been able to do much with the retired mlb players lately. I get the addresses on sportscollectors.net
I also have tracked down many elusive mlb players, not just negro leaguers. Players such as Choo Choo Coleman, Ossie Chavarria, Charlie Dees, Benny Valenzuela, and others. Many of these mlb guys I deal with had never been in contact with anyone either, so I got them in touch with many of their teammates, and in return got some autographs etc… These guys' addresses I find myself, as there is no database for these tough-to-find players.
Q: Back to Negro Leaguers: who are some of the men you've made cards for? The article made it
sound like you've contacted card companies on their behalf. Example?
A: Well, I started out making cards on adobe illustrator on my computer, and printing them out on card stock I bought at staples. After doing that for a few ballplayers, me and some of the players decided we wanted some high-quality cards that we could get in large qualities. The ones from my computer were kind of flimsy, and I couldn't make very many of them at a time, because I had to hand cut out them. So I contacted Custom Sports Cards in California, and after working with them for awhile they gave us a great deal and made up some cards. Now, me and Custom Sports Cards have worked on producing about 4 cards for players, with 3 or 4 players I am about to start on. Some of these players are James 'Cowboy' Atterbury and Bill Bethea.
Q: How have you researched the Negro Leagues by Internet and in person? Where should a fan start to learn more?
A: I do most of my work by speaking with the players. I really don't like to read and am not one to read through research books. So most of the stuff I learned I picked up one my own. I started out by just speaking with people on sportscollectors.net, where we would try to find and talk about the negro leagues. I have also interviewed hundreds of players and met many players, and I have interviewed and talked with them about their careers. I also find much of my info from old newspaper articles, where they talk about many of the players.
I think a fan should start to learn more about the negro league by meeting a player. It sounds kind of weird, but these people can talk to you for hours about their playing days, and if you want to learn and really get involved with the Negro Leagues, you have to meet a player. When I first went to Birmingham last year and talked with 50+ players for hours, it really put everything in perspective.
Q. Please, would you share an example of finding a former player's address online?
A. Well. I'm not going to use names or websites here, because this is kind of my big secret.
I start by finding out the approximate age of the ballplayer, and cities where they could have possibly lived. From there, I use approximately 8-10 websites in conjunction to help me track down a player. I'm sorry, but I cant really say much more without giving it away. This is really the only thing I don't like to tell anyone.
Q: Individuals you're searching for, or research questions readers might assist you on?
A: There's probably 25 ballplayers that I know are alive, but they move so much that there is no current info on them. These guys I compare to Jim Ray Hart, a MLB ballplayer who has been known to continuously move from place to place, and no one can ever find him.
Some of them are:
Bert Tarboro, Indianapolis Clowns – Bethlehem, Pa
Herb Crawford, KCM – somewhere in D.C. or Maryland
Also if anyone can get Al 'Buddy' Owens of the Chicago American Giants to sign a baseball, I'll give you 100 bucks. This guy is known to be one of the toughest signers. He's in Harvey's books. Many people have sent to him, but he won't sign, not even for money!
If anyone lives in these areas or something, maybe you've heard of these guys, as many of them coached locally after their careers.
Also if anyone knows of any local negro league players, maybe they wrote an article about them in the local paper or something, let me know!
Q: Advice writing to a little-known retiree from any part of baseball's past, where you don't have tons of stats or info on him?
A: Whenever I write to a cup of coffee ballplayer or something like that , I totally disregard their major league career. I mean everyone in the past has talked to them about their meager baseball career. I like to talk or ask them about their minor league career. If you go on baseball reference, you can see minor league stats going back to the early 1900's. Many of these cup of coffee guys, had extensive minor league careers, and there's always tons of old minor league photos, and information on these teams. When writing to these guys, ask them about how it was playing at so and so park, or talk to them about a specific minor league team they played on. Talk to them about an old-time manager, every ballplayer has played for an old-time manager, especially for these guys who played in the 50's or 60's, many of their managers played in the 10's 20's or 30's.
Q: For Negro League addresses, it seems that Harvey Meiselman (www.sportsaddresslists.com) has the best available?
A. It is by far the best list out there But the negro leaguers he covers is just a small portion of the many guys still alive. He has maybe 200 or so, just to let everyone know, there are many more than that still alive.
Q: Future hobby goals? Or realms of baseball history you might seek out as a collector-researcher?
A: FIND MORE LIVING NEGRO LEAGUE BASEBALL PLAYERS.
As for other realms of baseball history, I have done a lot of Spanish and Cuban ball players of the 40's through 60's in the past. Maybe at some point I will head back to that? I'm not sure. I'm very overwhelmed as it is right now with negro league stuff alone.
Thanks to Cam Perron for the time he shared in answering these questions. Most of all, I'm grateful for the example he's setting for older, more experienced collectors. We ask "why?" He says "why not?" As a result, a whole new generation of fans and collectors will find a deeper appreciation of the least-known chapters in Negro League history.