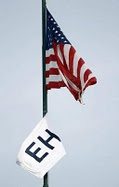 I double-checked a file and gasped. Earlier, I shared a letter I sent to Mrs. Ernie Harwell in 2002.
I had tucked away the inspiring response she sent. Here it is, on official team stationery from Comerica park. That famous "D" and the title "Ernie Harwell, Broadcaster" are all that's seen at the top of the page.
The one-and-only Miss Lulu wrote:
"Dear Mr. Owens,

I swiped a piece of Ernie's Tiger stationery to do this. I just want to thank you for your kind letter.

For me — and for Ernie — our journey through baseball took us to many wonderful places to live and many great people as friends and neighbors.

It has been a great life and a busy one — raising four children in spite of the baseball schedule. Our 61st wedding anniversary arrives on August 30th, the day of a possible strike.

Our faith in God has carried us through!

Gratefully,

Lulu Harwell"

I found the image of the Comerica Park tribute flag and some vintage family portraits of Ernie and Lulu at the fascinating blog of their granddaughter, Anne Harwell. Anne is a talented artist. Art lovers and baseball fans will be glad they stopped.