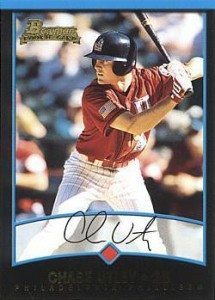 This 2001 Bowman
facsimile autograph
may have been a
foreshadowing that
Utley would never
embrace signing.
Chase Utley made the Huffington Post.
Without being charged with a crime or indulging in a scandal?
The second baseman's interaction with It's Always Sunny In Philadelphia evokes special irony for collectors. Since 2006, Utley fan mail in care of the Phillies brings a form letter. Amazingly, the stock reply to fans reflects his TV version! He tells of how he's too busy playing baseball to sign an autograph.
Although a postcard-sized photo gets included, collectors have sighed for years that the "autograph" is a likely preprint.
I guess the hobby can take small comfort in Utley having similar reactions to real-life collectors and fictional TV characters.