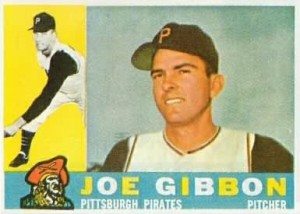 Love the expression: "Maz will do WHAT?"
Pitcher Joe Gibbon fascinates me.
He made the common transition of hurlers in the 1960s, from starter to reliever.
Which did he prefer? Gibbon wrote me:
"It didn't matter, as long as I was pitching."
I asked about the 1960 World Championship. What does he remember most? From a man who had one of the best seats in the house…
"The Seventh Game. Maz walk-off homer."
Just when I thought I might be able to read the mind of this former Buc, Gibbon threw me a curve. I asked about teammate Roberto Clemente. What were conversations like with him?
"Nice guy. He could tell some wild stories."
Wild stories?!? Hmmm…
More Gibbon insights can be found in this sterling SABR biography, written by Thomas Van Hyning.
Coming Thursday: a notorious non-signer writes a feel-good baseball book!