"Stick" with me a bit, please.
I've never been an all-in shopper for discounted holiday items. Yes, those Halloween doodads marked down on November 1 could be useful again in 350 or so days. I suppose.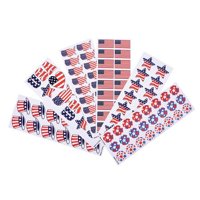 Here's one exception that always gets me excited. Check out the Fourth of July markdowns. Get yourself some red, white and blue stickers. Flags, stars, anything patriotic. Slap those stickers on your envelopes addressed to retired players NOW.
Use them year-round.
Decorate the envelope first. If you have leftovers, including leftover energy, include stickers on your letter. Remember, the world's greatest letter can't succeed if the intended ex-player doesn't bother opening the envelope.
Your envelope will be swimming in a sea of mail. How does yours stand out? Why should your letter be opened first?
Seeing a couple of flag stickers on an envelope hints at your good character. The decoration shows that you made an extra effort. Try it!
Invest now in some patriotic stickers. Watch for a boost in your success rates this year.