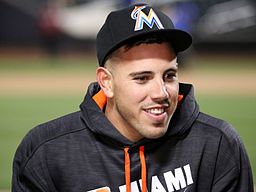 Gone at age 24.
What can collectors and researchers learn from such a shock as the accidental death of pitcher Jose Fernandez?
According to the ever-inspiring www.sportscollectors.net, Fernandez had responded to 17 of 67 TTM requests. The last success came in his 2013 rookie season, however.
This isn't a post about stats, mind you. This is a message about the future.
Hurry up. Fate won't wait.
Write to those baseball names NOW.