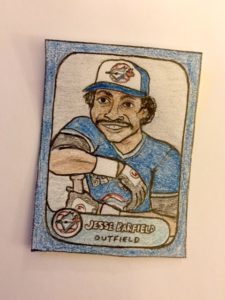 Charmed.
My heart melted when I saw the first artworks of Mike Noren. His "Gummy Arts" sharing on Twitter is a daily delight. He wishes a happy birthday to former players by recreating one of their cards.
I asked for details. Mike responded:
"My interactions with the players I draw are pretty much limited to Twitter. If the player is on Twitter, I'll tag them in the tweet, and sometimes they'll respond with a "like" or a retweet or a tweet in response.
Off the top of my head, players who've retweeted my drawings include Jesse Barfield, Steve Garvey, Dontrelle Willis, Bret Saberhagen, and Juan Pierre (just today).
I haven't gotten any of the drawings signed, and I generally don't sell the drawings. Everything I've drawn for my main website (http://cecilcooperstown.tumblr.com ) is in an envelope on my shelf— I'm not sure what I'll do with them, but I'm hanging on to them for now. I've done a few projects on commission.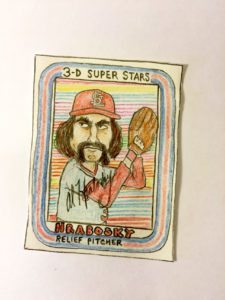 People can reach me through twitter or at mikegnoren@yahoo.com."
Be like Mike. Make your own rules. Make this hobby your own.
Related