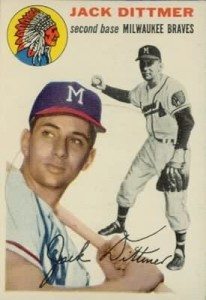 I shared Jack Dittmer's great letter back in 2011.
Looking back, I see a pattern:
Born 1928 in Iowa
Died 2014 in Iowa
College sports star in….
Iowa?
Yep!
Year after year, I hear from collectors and researchers who want to make contact with baseball's past.
How do they bridge that gap? 
Simple. Pay attention to the player's roots. I think Dittmer would have replied, no matter what. After all, he was an IOWAN. However, I took no chances. I noted my commonality with him.
Want to get your letter opened and up your chances for a response? Think geographically.